JR DRAGSTER SERIES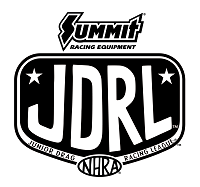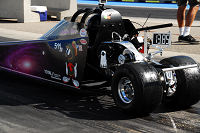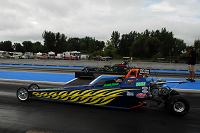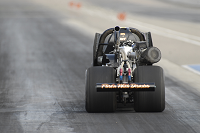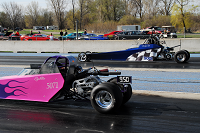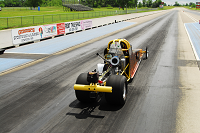 The NHRA Jr Drag Racing League offers kids ages 5-18 a chance to race half-scale dragsters in a controlled environment. If you haven't seen a Jr Dragster, then you haven't seen the future of NHRA drag racing.

Rules
- All Jr's need to be a JDRL member - click here for more info
- All Jr's must be licensed - click here for more info
- Must Follow NHRA Rules - For detailed rules and amendments please see NHRA Jr Rule Book Online
- All participants must have a MINOR RELEASE FORM signed by both parents or guardians.
Jr Dragster Competition Categories
Trophy Classes - Win 2 Rounds, Win a Trophy!
All participants receive a Medallion!
Jr's race at all racing events (unless otherwise noted) - see schedule for dates.
CLASSES
- Novice (age 5 - 9)
- Intermediate (age 10 - 12)
- Advanced (age 13 - 18)

Special Events for Jr Drag Racers
GCR Championship Series - see schedule for series dates
Held at - Grove Creek Raceway - Grove City MN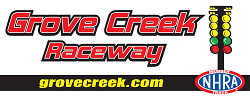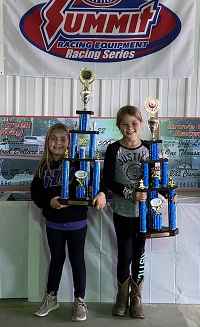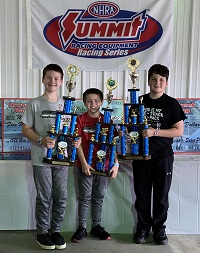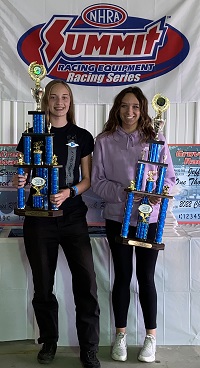 2022 Jr Trophy Getters!
Novice: 2nd-Haley Dahms, 1st-Brynn Reynolds
Intermediate: 3rd-Colin Songas, 2nd-Evan Songas, 1st-Ty Reynolds
Advanced: 2nd Carlee Reeber, 1st-Gabbie Poole

To Qualify to compete at the NHRA Jr Drag Racing League Western Conference Finals, you must join the Grove Creek Championship Series.
-- $35 entrance fee to be eligible (sign up at track before first points race)
-- Count your best points races of the season (see schedule for details)
-- Points awarded for attendance and rounds won
-- Top point getters earn Special Prizes and Trophies awarded at presentations

GCR Holiday Mini-Series Continues!
Held at - Grove Creek Raceway - Grove City MN - See poster below for more details!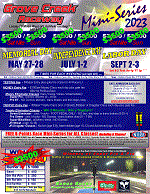 Click on image for pdf file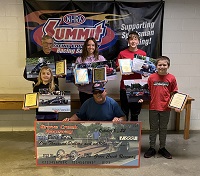 2022 Mini-Series Champions
Back Row: Dan Graunke-Super Bike/Sled. Gabbie Poole-Jr Advanced & Street Eliminator, Magnus Baker-Jr Street
Front Row: Haley Dahms-Jr Novice, Butch Belair-Super Pro, Evan Songas-Jr Intermediate
(Not Pictured) Andy Hample-Pro Street, Dave Hamilton-Pro ET

The 'Holiday Mini-Series' is made up of 3 double header race weekends featuring all our regular classes with it's own mini-point series - no need to sign up for you are automatically entered in the events you participate in! Awards are presented at the year end racer picnic and presentations.
GCR Jr Drag Racing Challenge - Sun Jun 11, 2023
Held at - Grove Creek Raceway - Grove City MN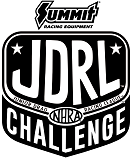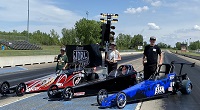 2022 JDC Winners:
Bodie Carlson - Novice, Skylar Bremer - Intermediate, Kabren Jackson - Advanced

In the NHRA Jr Drag Racing League Challenge, Jr drag racers compete for special-edition trophies and receive recognition in NHRA National Dragster.
NHRA MN State Championships - Sun Oct 1, 2023
Held at - Grove Creek Raceway - Grove City MN


A special-event program for NHRA Member Tracks and their E.T. bracket racers. With member tracks across the country as well as in Canada and Puerto Rico, the program will recognize and award grassroots racers with a unique, specially designed NHRA State Championships Wally plaque.

Much like state high school athletic associations that conduct state championships in school sporting events, NHRA will designate and recognize one rotating annual event per state that boasts NHRA member tracks as the official NHRA Drag Racing State Championships.

E.T. bracket categories that are part of the NHRA Summit Racing Series and a Jr. Dragster class contested in the state and NHRA geographic division will receive official NHRA State Championships designation.
Jr Championships - Jun 23, 2023
Div 5 Held at - Bandimere Speedway - Denver, CO

JDRL National Shootout - Jul 14-16, 2023
Div 5 Held at - Bandimere Speedway - Denver, CO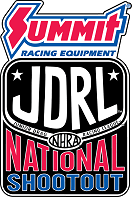 Racers in the NHRA Summit Racing Jr. Drag Racing League will be featured during 2023 NHRA Camping World Drag Racing Series events. The seven National Shootouts, one in each geographic division, will include eight-car Jr. Dragster fields, and the final round from each shootout will take place on Sunday and be included in the event's national broadcast on FOX and FOX Sports 1.
Western and Eastern Conference Finals
CONFERENCE AWARDS AND PURSE
Western (Div 4-7) - Held at - Bandimere Speedway - Denver CO - June 22-25, 2023
Eastern (Div 1-3) - Held at - Bristol Dragway - Bristol TN - July 10-15, 2023
(must sign up for local track points and be a member of the track team to participate in these events)



Each season, racers from throughout the western/eastern United States and Canada take their shot at Wallys and a share of prize money during the NHRA Jr. Drag Racing Western/Eastern Conference Finals. The Western event features racers from all tracks in Divisions 4, 5, 6 and 7. The Eastern event features racers from all tracks in Divisions 1, 2 and 3. Each NHRA member track may send an unlimited number of teams of 10 racers to the event. The event awards a Wally and prize money to the winner in each of the eight age categories -- 6-9, 10, 11, 12, 13, 14, 15, and 16-17 -- and a Wally to each member of the winning team.